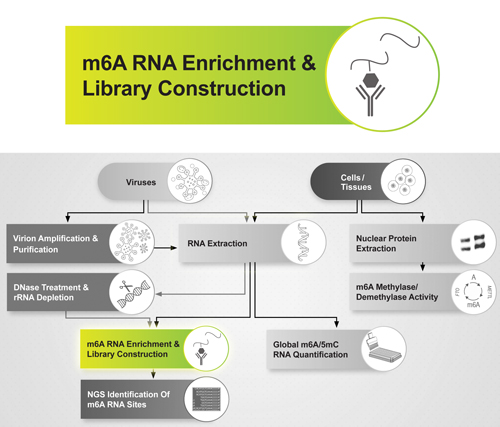 This is part of our end-to-end viral RNA modification workflow, click the image for more details
CUT&RUN m6A Enrichment Assays:
MeRIP & m6A-Seq Kits
Researchers investigating RNA viruses like SARS-CoV-2, the novel coronavirus responsible for COVID-19, know all too well how difficult it can be to determine exactly the causes of infection and their effects on immune response. That is because RNA, like DNA, carries various chemical modifications that are believed to play a role in the viral life cycle. N6-Methyladenosine (m6A), which is the most abundant chemical modification found in mRNA, has been widely studied, and research suggests that it has the potential to considerably change our understanding of virus-host interactions. Having the right tools to hone in on this modification and its location could prove valuable in developing new diagnostics and therapeutics for certain RNA viruses more effectively.
Several methods have been developed over the years to identify m6A modifications, many of which are based on immunoprecipitation or involve a particular RNA chemistry to isolate the modified RNA fragments, and some are subsequently combined with high-throughput sequencing. These methods include techniques that determine the global levels of m6A in RNA and ones that more precisely map the location of m6A as it occurs across the transcriptome. To view some of the conventional approaches used to detect m6A in RNA and their attributes, refer to the downloadable informative graphic available here.
Mapping the locations of m6A across the transcriptome is essential for investigating its biological functions. Techniques such as methylated RNA immunoprecipitation sequencing (MeRIP) (MeRIP-seq, or m6A-seq), as well as analogous methods like PA-m6A-seq, miCLIP, and m6A-CLIP, have been utilized to divulge insight into m6A regulatory function. However, there are some limitations to these techniques in achieving high resolution profiling and reproducibility. Additionally, they can be time-consuming and costly, and often do not work well in situations where input material is low.
To address these issues, scientists at EpiGentek have developed a new method called CUT&RUN RNA m6A enrichment (cleavage under target and recover using nuclease for RNA m6A enrichment). By utilizing a unique nucleic acid cleavage enzyme mix, the approach isolates only RNA segments at the antibody binding locations. This method is an improvement upon the traditional MeRIP technique as it allows for high-resolution mapping even when the RNA input amount is small. Plus, the simultaneous capture and cleavage under target method streamlines the procedural steps, going from RNA to library cDNA in just hours.
As seen in the diagram below, RNA sequences containing m6A are immunocaptured by a highly specific, bead-bound antibody. Unbound regions at both ends of the RNA target are then removed by a specialized cleavage enzyme mix, and the target m6A-containing fragments are isolated via magnetic beads pulldown. As a result, the short RNA fragments that are eluted provide true target m6A-enriched regions that can therefore be reliably identified with less bias using a high throughput platform.

High Resolution MeRIP & m6A-seq Assays
The EpiQuik CUT&RUN m6A RNA Enrichment Kit and EpiNext CUT&RUN RNA m6A-Seq Kit each provide all the necessary components needed to enrich for m6A-containing RNA from low input amounts with minimal non-specific background levels. While a library prep step is added for convenience in the second kit mentioned above, both kits provide m6A RNA enrichment that can be readily assessed by PCR or epitranscriptome-wide m6A profiling via next-generation sequencing using Illumina platforms or other methods.
Kit Type

Kit Details

m6A MeRIP

EpiQuik CUT&RUN m6A RNA Enrichment Kit
MeRIP based on CUT&RUN for increased specificity and signals

● High Enrichment: Generates short RNA fragments bound only to m6A antibody

● Low Sample Requirement: Input RNA can be as low as 500 ng

● Minimal Background: Data analysis with <10 million reads

● Fast: Procedure is 2 hours and 3 min with <30 min of hands-on time

Size: 24 Reactions

m6A RNA-Seq Library

Preparation

EpiNext CUT&RUN RNA m6A-Seq Kit
All-in-one MeRIP and NGS library preparation based on CUT&RUN

● High Enrichment: Generates short RNA fragments bound only to m6A antibody

● Low Sample Requirement: Input RNA can be as low as 500 ng

● Minimal Background: Data analysis with <10 million reads

● Fast: Procedure is less than 6 hours with <1 hour of hands-on time

● Library Prep: Includes cDNA library preparation components

Sizes: 12 & 24 Reactions
★ 제품에 대한 문의는 ㈜부경 에스·엠 영업부로 연락 주시기 바랍니다.
TEL : 02.516.7331 FAX : 02.516.5123 E-Mail : research@bookyungsm.co.kr