APExBIO는 Small molecule, Inhibitor, Peptide 등의
chemical 관련 제품을 직접 생산, 공급하는 브랜드입니다.
바이오클론(주)는
APExBIO의 한국독점대리점이며,
2015년부터 정부의 화학물질의 등록 및 평가 등에
관한 법률(화평법)에 의해 모든 화학물질을 한국환경공단에
신고, 허가 하에 안전하게 수입 공급하고 있습니다.
한국환경공단 신고허가없이 수입되거나 공식대리점이 아닌 무분별한 수입업자에 공급되어진 화학물질품목은 화평법에 의해 문제소지가 발생할수 있습니다
Linezolid
Cat# A5181
CAS# 165800-03-3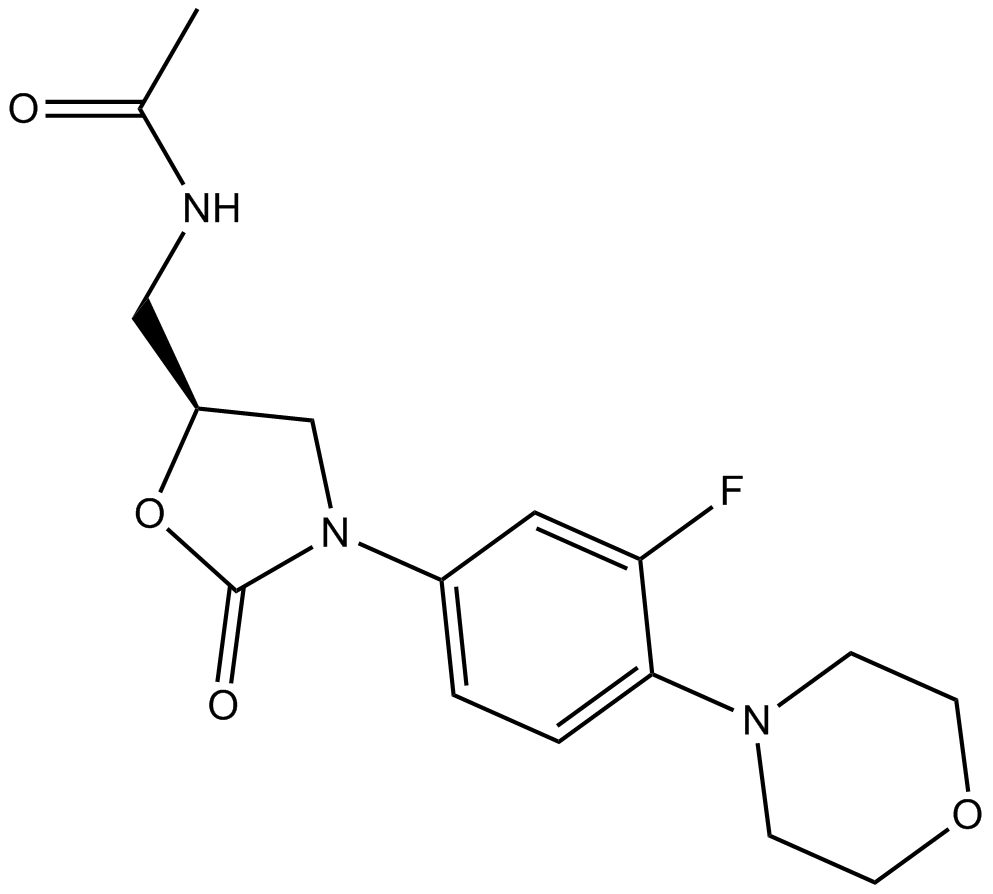 Background
Linezolid, a synthetic oxazolidinone antimicrobial, shows a wide spectrum against Gram-positive bacteria andmultidrug-resistant bacteria such as anaerobes, methicillin-resistant Staphylococcus aureus (MRSA), vancomycin-resistant enterococci, penicillin-resistant pneumococci and streptococcus [1,2].
Oxazolidinones could inhibit protein synthesis by binding to a site on the bacterial 23S ribosomal RNA of the 50S subunit and prevent the formation of a functional 70S-initiation complex. Linezolid is also a weak, nonselective and reversible inhibitor of monoamine oxidase [2].
In Vitro: Linezolid was a potent inhibitor of cell-free transcription-translation in E. coli. IC50 was 1.8 mM[3]. linezolid MICs vary slightly owing to the different test method and laboratory. The MIC values were between 0.5 and 4 mg/L for streptococci, enterococci and staphylococci [4].
Clinical Trials: Linezolid is fully bioavailable following oral administration, with maximum plasma linezolid concentrations achieved between 1 and 2 hours after oral administration. The elimination half-life of linezolid is 5–7 hours, and twice-daily administration of 400–600mg provides steady-state concentrations in the therapeutic range[5].
In clinical trials involving hospitalised patients with skin/soft tissue infections (predominantly S. aureus), intravenous/oral administration of linezolid (up to 1250 mg/day) produced clinical success in > 83% of individuals. In patients with community-acquired pneumonia, success rates were > 94%[6]. Linezolid could also be used in patients with nosocomial pneumonia[7].Linezolid appears to be well tolerated and the most common side effects is gastrointestinal disturbances [6].
Chemical Properties
| | |
| --- | --- |
| Physical Appearance | A solid |
| Storage | Store at -20°C |
| M.Wt | 337.35 |
| Cas No. | 165800-03-3 |
| Formula | C16H20FN3O4 |
| Solubility | ≥16.85 mg/mL in DMSO; ≥2.48 mg/mL in H2O with gentle warming and ultrasonic; ≥9.5 mg/mL in EtOH with ultrasonic |
| Chemical Name | N-[[(5S)-3-(3-fluoro-4-morpholin-4-ylphenyl)-2-oxo-1,3-oxazolidin-5-yl]methyl]acetamide |
| Canonical SMILES | CC(=O)NCC1CN(C(=O)O1)C2=CC(=C(C=C2)N3CCOCC3)F |
| Shipping Condition | Ship with blue ice, or upon other requests. |
| General tips | For obtaining a higher solubility, please warm the tube at 37°C and shake it in the ultrasonic bath for a while. We do not recommend long-term storage for the solution, please use it up soon. |
Protocol
Antibacterial test [1]:

Bacteria

E. coli UC6782

Preparation method

The solubility of this compound in DMSO is > 16.9 mg/mL. General tips for obtaining a higher concentration: Please warm the tube at 37 °C for 10 minutes and/or shake it in the ultrasonic bath for a while. Stock solution can be stored below - 20 °C for several months.

Reacting condition

0.01 ~ 1000 μM; 60 mins

Applications

Linezolid potently inhibited protein synthesis in E. coli UC6782, with the IC90 value of 30 μM. Linezolid was at least 2.5 times more potent than DuP-721 and about twice as potent as streptomycin.
매주 금요일 4시 발주
자세한 문의사항은 바이오클론으로 연락주세요
Homepage : www.bioclone.co.kr
한국독점대리점 바이오클론㈜
T) 02-2690-0058 F) 02-2690-0397
www.bioclone.co.kr