APExBIO는 Small molecule, Inhibitor, Peptide 등의 chemical 관련 제품을 직접 생산, 공급하는 브랜드입니다.

바이오클론(주)는 Apexbio의 한국공식독점대리점이며, 2015년부터 정부의

화학물질의 등록 및 평가 등에 관한 법률(화평법)에 의해 모든 화학물질을

한국환경공단에 신고, 허가 하에 안전하게 수입 공급하고 있습니다.
| | | |
| --- | --- | --- |
| Cat.No | Product Name | memo |
| B6054 | EAI045 | Inhibitor of L858R/T790M EGFR mutants |
| B5843 | CTX0294885 | CTx-0294885 is a novel bisanilino pyrimidine. It has inhibitory activity towards a wild range of kinases in vitro. |
| A8706 | BLU9931 | FGFR4 inhibitor,potent and irreversible. BLU9931 is a potent and irreversible inhibitor of FGFR4. |
| C5826 | AG957 | a tyrphostin that targets transforming Bcr-Abl fusion proteins |
| C5465 | AG-1295 | potent and selective inhibitor of PDGF receptor kinase |
| C5417 | AG-1557 | inhibitor of epidermal growth factor receptor (EGFR) tyrosine kinase |
| C4953 | HA-100 (hydrochloride) | inhibitor of protein kinases (PKs) |
| C4844 | AG-183 | inhibitor of epidermal growth factor (EGF) receptor kinase |
| B7853 | Tandutinib (MLN518) HCl | FLT3 inhibitor,potent and selective |
| C5553 | HNMPA | cell impermeable tyrosine kinase inhibitor |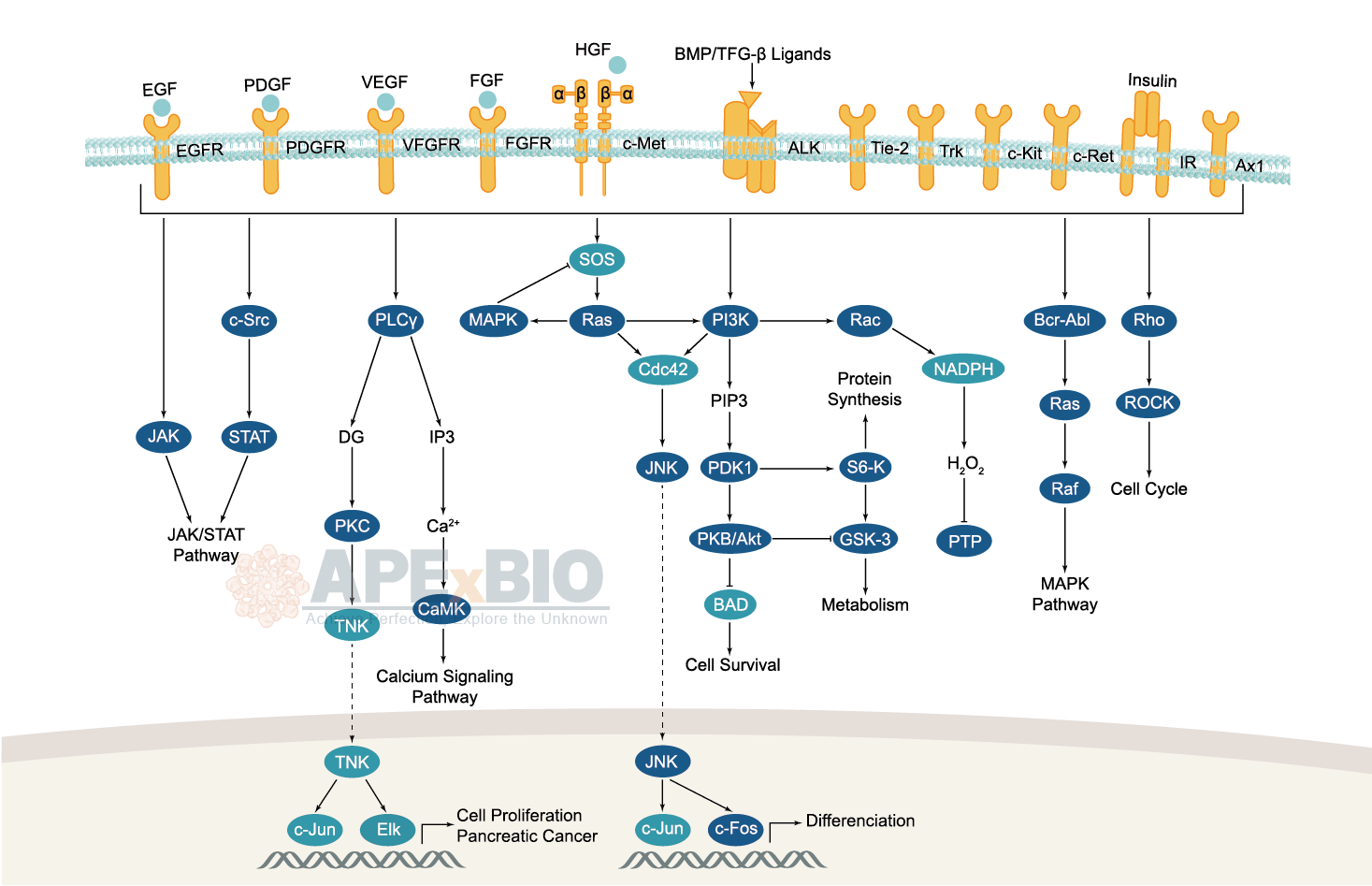 Tyrosine kinase is a large group of proteins regulates the function of cell growth, differentiation, motility, cytoskeletal rearrangement and adhesion etc. They activate the target protein through transfer of phosphate from ATP to the hydroxyl group of a target protein tyrosine. Transmembrane receptor kinases and non-receptor cytoplasmic kinases are two main categories of the tyrosine kinases.
Receptor tyrosine kinases bind to extracellular ligands/growth factors, which promotes receptor dimerization and autophosphorylation of receptor tyrosine residues. This triggers a cascade of downstream events through phosphorylation of intracellular proteins that ultimately transduce the extracellular signal to the nucleus, causing changes in gene expression. Receptor tyrosine kinases include EGFR/ErbB, PDGFR, VEGFR, FGFR and MET subfamilies etc. Dysfunctions in tyrosine phosphorylation are linked to oncogenic transformation. In additions, various adaptor and effector proteins couple to carboxy-terminal of an active kinase. For instance, binding of the GRB2 adaptor protein activates EGFR and MAPK/ERK signaling.
Non-receptor tyrosine kinases involve many well-defined proteins (e.g. the Src family kinases, c-Abl, and Jak kinases) and other kinases which regulates cell growth and differentiation. For example, Src family kinases are curial for activating and inhibitory pathways in the innate immune response.
궁금한 사항은 바이오클론으로 문의해 주세요.
Homepage : www.bioclone.co.kr